Dance Classes for Young People in Cornwall
About Victoria's Dance Academy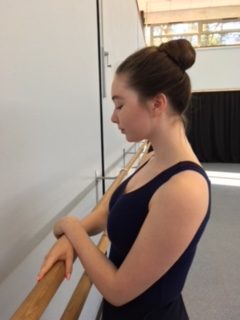 ABOUT OUR SCHOOL
We are a friendly dance school based in the dance studio at Falmouth School. Classes are offered in ballet, pointe, tap, modern theatre and jazz. Our studio is a beautiful space, light and spacious with fixed ballet barres and mirrors.
We follow the Royal Academy of Dance and Imperial Society of Teachers of Dancing syllabi, offering the students the opportunity to take OFQUAL accredited exams and class awards.
Students also have regular opportunities to perform. We collaborate with Falmouth School in the annual Dance Partners performances, as well as our all school shows every other year, where we raise money for children's charities.
We offer classes for all ages, from pre-school to adults. At Victoria's Dance Academy we pride ourselves on inclusivity, some will just want to dance for fun and fitness, to create new friendships and enjoy the rewards of a new skill. Others will want to take their classes more seriously and consider a career in performing arts. Victoria and her teachers will always endeavor to support everyone in their pursuits to the best of their abilities. Our alumni are testament to that, lots come back and join our adult classes, sharing anecdotes of their childhood dance memories, some have gone on to have successful careers as dancers and teachers themselves. We welcome all through our doors.
4.30pm – Grade 1 Ballet
5pm - Grade 1 Tap
5.30pm – Grade 6 Modern
6pm - Grade 6 Ballet
6.45pm - Senior Pointe
7.15pm - Grade 5 Tap
7.45pm - FINISH
3.45pm – Primary Ballet/Tap (from Yr1 at school)
4.45pm – Grade 5 Ballet
5.30pm – Beginners Pointe
6pm – Grade 5 Modern
6.30pm - Grade 4 Tap
7pm - Adult Tap
8pm - Adult Ballet
8.45pm - FINISH
3.30pm – Pre-School Ballet (from 2.5yrs)
4pm – Pre-Primary Ballet/Tap (4-5yrs)
4.45pm – Grade 1 Ballet
5.15pm - Grade 1 Tap
5.45pm - Grade 2 Modern
6.15pm – Grade 2 Ballet
6.45pm - Grade 2 Tap
7.15pm - Grade 3 Modern
7.45pm – FINISH
4pm – Primary Ballet/Tap (from Yr1 at school)
5pm – Grade 3 Ballet
5.45pm – Grade 3 Tap
6.15pm – Grade 4 Modern
6.45pm – Grade 4 Ballet
7.30pm - FINISH
We are hoping to run Friday evening sessions again once we can resume our normal timetable.
Classes are held at Falmouth School, Trescobeas Road, Falmouth, TR11 4LH.
Email:
[email protected]
hotmail.co.uk
Or telephone:
Victoria Keast – 07854 011654
Address: 8 Packsaddle Close, Penryn TR10 8RR